Magnetic Educational Aid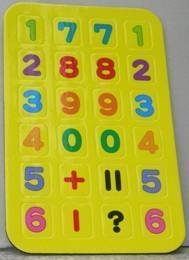 More-Details:
Magnetic educational aid can use on any magnet receptive surface such as file cabinets, metal storage bins, refrigerator ,whiteboard, fridge for teching purpose.
With convenience of easy stick and easy off on any magnet receptive surface, magnetic educational aid enable teching work available other than classroom.
Magnetic educational aid are made of permanent flexible magnets with process of printing , lamination and die cutting.
Jasdi Magnet manufacture standard permanent flexible magnets suitable for magnetic educational aid. Our materials are easy for process like printing,lamination and die cutting for your magnetic applications.
We offer custom magnets for your special magnetic educational aid design also. We will work with you to find the best solution for your magnetic educational aid.
Jasdi magnet produce flexible magnetic materials for magnetic educational aid usage in standard and custom specifications. We offer flexible magnets in required thickness, lamination, shape, attractive strength, packing etc at competitive prices and attentive customer service.