Magnetic Educational Aid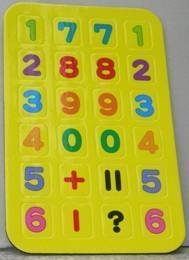 More-Details:
Magnets for Classroom Use Solution
Magnetic teaching aids can use on any magnet receptive surface such as file cabinets, metal storage bins, refrigerators, whiteboards, fridges for teaching purposes. It is one of the commonest applications of magnets for classroom use.
With the convenience of easy stick and easy off on any magnet receptive surface, magnetic teaching aids enable teaching work more flexible than ever. Even, if teachers and students are not in the classroom, as long as there are corresponding magnetic surfaces and magnetic teaching aids, it is also possible to take a lesson.
Magnetic teaching aids are made of permanent flexible magnets with the process of printing, lamination, and die cutting.
To support making high-quality magnetic teaching aids, Jasdi Magnet manufacture standard permanent flexible magnets suitable for the production of magnets for classroom use. Our materials are easy for the process like printing, lamination, and die cutting for your magnetic applications.
Moreover, We also offer custom magnets for your special magnetic teaching aids design. We will work with you to find the best solution for your magnetic teaching aids.
Jasdi magnet produces flexible magnetic materials for magnetic teaching aids usage in standard and custom specifications. We offer flexible magnets in required thickness, lamination, shape, attractive strength, packing, etc at competitive prices and attentive customer service. Welcome to contact us to make your own magnetic teaching aids!