Flexible Magnetic Receptive White Boards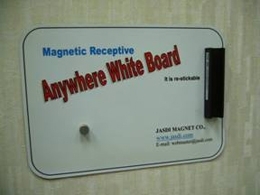 More-Details:
Flexible magnetic receptive whiteboards are made of flexible magnetic receptive material with whiteboard surface that are vinyl with write/erasable film.
Flexible magnetic whiteboard combine flexible with whiteboard successfully and could be used with magnets.
With flexible it is easy to cut and process for crafts and innovative applications.
White whiteboard surface it is easy to write on and wipe off as traditional whiteboards.
Flexible magnetic receptive whiteboards are extensively used for jobs as display, message,memo, instruction , menu , schedule , planning , teaching aids, design, doodle etc with benefit of portability.
Jasdi magnet offer flexible magnetic receptive whiteboard materials in sheet or in roll form with standard or custom specifications in order to meet specific process requirements at competitive prices and attentive customer service.