Refrigerator Magnets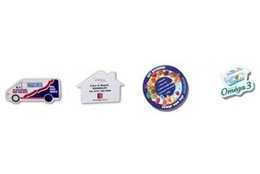 More-Details:
There are millions of refrigerators that can be seen everywhere and what is the best way to disseminate messages through refrigerators ?
Of course the refrigerator magnets are!
Refrigerator magnets also know as fridge magnets that are made of permanent flexible magnets with process of printing, lamination and die cutting. Refrigerator magnets are used for advertising specialties and sales promotions also decorate refrigerator to be beautiful, fantastic and personalised.
We offer flexible magnetic sheeting suitable to be refrigerator magnets material in sheet, roll and pre kiss-cut form. With pre Kiss-cut form you may apply various printing art works and will skip die-cut process to create your rapid promotion solution.
Jasdi Magnet produce flexible magnets for refrigerator magnets material with standard and custom manufactured in ordet to meet customer\'s specific requirements at competitive prices and attentive customer service.